Preschool
The Belmont Community Center Preschool is a developmental program reflecting current early childhood education philosophy. It is designed to enhance and enrich the social, emotional, physical, and academic development of 3, 4, and 5 year olds. We provide an environment which stimulates the child's natural curiosity as they learn through play as well as peer and adult interaction.
Looking for more information about our preschool program? 
For the kids
Program Schedule
Full Day Schedule
8:15-8:30 am – Arrival

8:30 am

– Free Play and Breakfast (BCC does not provide breakfast)

9:00 am

 – Recess

10:00 am

– Circle Time

Calendar, Letter & Number of the Week, Theme Activity, Storytime, Daily Songs

10:30 am

– Play Centers

Pretend Play, Reading, Building, Art, Small Group Learning Activity

12:00 pm

– Lunch (BCC does not provide lunch)

12:30 pm

 – Nap/Free Play

2:30 pm

 – Snack

3:00-3:30 pm – End of Day Play
Half Day Schedule
8:15-8:30 am – Arrival

8:30 am

– Free Play, Breakfast (BCC does not provide breakfast)

9:00 am

 – Recess

10:00 am

– Circle Time

Calendar, Letter & Number of the Week, Theme Activity, Storytime, Daily Songs

10:30 am

– Play Centers

Pretend Play, Reading, Building, Art, Small Group Learning Activity

11:50 am-12:00 pm

 – Dismissal
Before/or After School
6:30am-8:30am

 –  

Join K-5 for Before School Care
8:30am-3:30pm – PRESCHOOL SCHEDULE (See Above)
3:30-4:30pm

 – 

Free Play

4:30-5:45pm

 – 

Join K-5 until close
Program Fees
Payments can be credit card, checks, or cash. We also accept the state childcare subsidy.
Registration Fee — $50 (one-time, nonrefundable, and due at enrollment)
All rates and fees are per child.
$50 one-time, nonrefundable registration fee due at enrollment
$50 one-time, nonrefundable registration due at enrollment
Before and/or after school
(Additional cost)
Can be added to either preschool program to extend a child's hours in BCC care
Complete before enrollment
Program Paperwork
Kelli Clark I Lead Teacher (4-5 Year Olds)
Ms. Kelli joined the BCC preschool program in the fall of 2022. She was previously an infant/toddler teacher and plans to get her associates in early childhood. She comes to the BCC with experience and training in "Conscious Discipline", a teaching style that incorporates building emotional intelligence and self-regulation as part of a child's path to academic success.
Ms. Kelli is a loving grandma who is raising three of her granddaughters! All total she has 11 grandbabies! Kelli enjoys Scooter's coffee, movies with her big family, and loves watching sports! GO BIG RED and Go Chiefs!
Email: kelli.clark@belmontcommunitycenter.org 
Mady Hoyt I Lead Teacher (3-4 Year Olds)
Ms. Mady joined the BCC as a practicum student from Southeast Community College in the spring of 2022 and she loved the BCC so much she decided to stay! In 2023, she graduated from SCC with an associates degree in Human Services. She has been seen subbing in for various BCC programs and is now full-time as a lead preschool teacher.
Mady and Dakota, Mady's fiancé, have their daughter named Adelia (Dilly) who is the light of their life and a dog named Wrigley. Wrigley is a Shih Tzu that weighs 7 pounds. Mady enjoys Greys Anatomy, caffeine, naps, and being with her family.
Email: mady.hoyt@belmontcommunitycenter.org 
Hyam Albayati I Assistant Teacher
Hyam came to the United States in 2010 where she began her love for childcare at her in-home daycare center in California. Hyam then moved to Nebraska where she resides with her husband and three children. Hyam plans to get her associates degree in child development and become the teacher that she has always dreamed of becoming in her youth. 
Hyam enjoys Starbucks and spending time with her family and friends!
Kylie Cook I Director of Education & Engagement
Kylie has her Bachelor's in Business Administration with minors in Educational Studies and Special Education to provide a classroom experience for all types of learners. Her ultimate goal is to prepare students for kindergarten with engaging topics and random dance parties!
Kylie enjoys binge watching Netflix, trying new restaurants, and spending time with her husband, Eric. Kylie also loves Scooter's Coffee, Chipotle, and watching sports with her family! Go Big Red and Go Chiefs!
Kylie supports the BCC Preschool Program by writing curriculum, assisting BCC Lead Teachers, and connecting with resources that support the individual needs of children in our early childhood program.
Email: kylie.cook@belmontcommunitycenter.org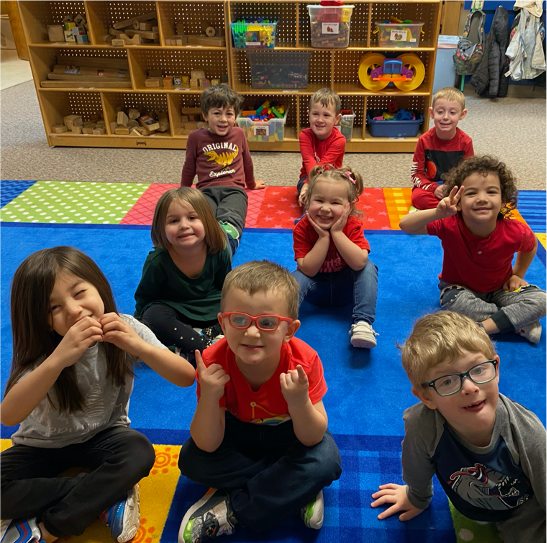 Got questions?
Program FAQs
Who can enroll for Preschool at the BCC?
Any child 3-5 years old who is potty trained.
What are some program and facility amenities?
 The BCC Preschool has their own classroom and entrance on the southeast corner of the building. The classroom has two restrooms, play centers including: building, art, puzzles, books/listening, dollhouse, and kitchen, and a rear fire exit leading to our baseball field. As part of the center, outside there is a baseball field, fenced in play area, sandbox, and cement patio. Nearby is a public picnic shelter and two playgrounds. BCC preschool also utilizes the indoor gymnasium, snack room, and meeting room to provide variety in activities and gross motor play.
Does the BCC provide breakfast and lunch?
The BCC preschool does not provide any meals during programming, but have eating times built into our schedule. Parents are welcome to send breakfast with students arriving before 8:30am and are required to send lunch with students staying for the full-day program. The BCC cannot refrigerate lunches, but microwaves are available for staff to heat/reheat student lunches. The BCC provides a snack to students at 3:15pm for those attending our full day program.
What is the student to staff ratio?
10 students (3-4 years old): 1 staff 
12 students (4-5 years old): 1 staff
When is the center closed?
Check out our calendar here.
Is there preschool when Lincoln Public Schools is closed?
Check out our program calendar here for holidays or closures. In the event of a LPS weather cancellation, the Belmont Community Center closes and preschool is cancelled.
What does drop off and pick up look like at the BCC?
Parents/Guardians are welcome to come in and drop off or pick up their child. Parents/Guardians also have the option to pull up and call the center for drop off or pick up. Children are sent out our front door which is located on 12th St by the flagpole. The BCC phone number is 402-477-8854. Parents can add or remove additional authorized pick up persons at anytime throughout the year.
What are the preschool program goals for my child?
Academic Goals
Write their first and last name.
Know all alphabet letters and sounds.
Count and recognize numbers 1-20.
Identify basic 2D shapes.
Clap and count syllables.
Complete patterns.
Identify the first sound of a word.
Vocalize age and birthday.
Hold a pencil correctly with a three finger grasp.
Social Emotional Goals
Show independence in a range of activities, routines and tasks.

Regulate a wide range of emotions using self-regulation.
Utilize strategies to help delay gratification (wait for their turn, etc.).
Share and take turns with peers.
Follow basic rules and routines for play and group participation.
Participate in cooperative play (work together to reach a common goal, etc.).
Display conflict resolution skills.
How will I know if my child is Kindergarten ready?
Baseline and developmental assessments will occur 3 times per year (September, January, and May). The BCC Preschool teacher will host parent teacher conferences (October and February) as well as provide a post-assessment, collaborative, educational plan for parents.
What does communication look like at the BCC?
Parents can connect with BCC preschool teachers via email or Class Dojo. Class Dojo is an app where BCC teachers will post photos, communicate with parents, and give updates about a child's day in the classroom. 
Parents can call the center or use an online platform (email or Dojo) to report if their child is sick, absent, or has a varying schedule for the day. Parents can also contact the center or their specific classroom teacher anytime with questions about their child's learning and environment.
What if I'm having trouble paying my bill?
Communicating with the BCC is very important. We don't want families to fall behind and thus unable to send their children to our programming. Please contact the office by emailing at belmontcc@belmontcommunitycenter.org or by phone 402.477.8854. We are happy to work with you on a payment plan.
I'm ready to enroll -- what's next?
Questions about our facilities?